"...am thankful that I had these great times"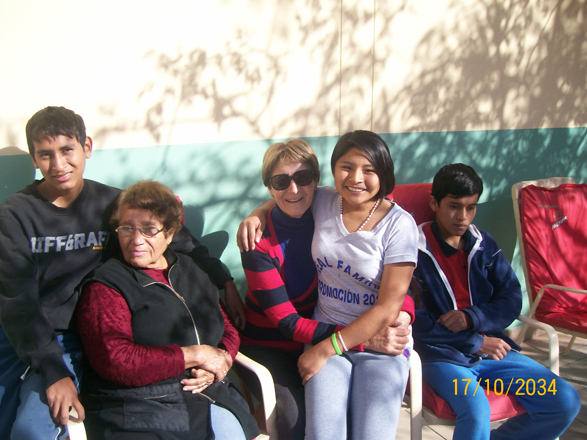 Dear Mrs. Hansen, dear Granny Aupair team,
after returning from my fourth assignment in social projects at the end of September, I would like to encourage others to dare something new. (...) My first assignment was in India, Jodhpur in 2011 in the Sambhali project. Since I am a designer for women's fashion, master craftswoman and cutting pattern directrice, I wanted to work in my profession and help women to help themselves. It was a great time, very labour-intensive, but everyone not only enjoyed it, but "my" women also learned a lot. Then, in 2014, again for the usual three visa months, I was in Bolivia in the Aldea Padre Alfredo in the casa de madres where young, very young mothers live, who are taken in there with their babies and can stay until their 18th birthday. There I also organized the tailor's workshop, had machines repaired, provided material and everything that belongs to it. In Santa Cruz de la Sierra we had a lot of fun and joy in the workshop, mothers with babies, and at the end the girls organized a great fashion show for me and showed me everything they had worked and learned, from bags to clothes, trousers and Santa hats! Then in 2016 I went to South Africa, Cape Town. This time it was three months in a retirement home and a total new experience for me.
It was a wonderful, very instructive time which I was allowed to spend with the dear ladies and gentlemen. The management of the home and all the other staff also did everything they could to ensure that this stay was successful for their clients and for me as well. Walks, discussion rounds, games, organisation women's day, activation rounds, etc. There are many possibilities to give joy and pleasure.
Of course there is still enough time to explore the country at the weekend and sometimes in between or at the end of your stay. For me the best leisure time at the weekend in this beautiful country was to ride on the beach - just great!
Ob es mir nochmal gelingt wieder "abzuhauen"??, weiß ich noch nicht, da spielt ja das Alter auch eine Rolle, obwohl ich jung und topfit bin!
And then came the hit: For Christmas 2016 I received a Christmas greeting from Peru. I had applied for this project at the same time as Bolivia and hadn't heard anything at that time; but now! In my answer I pointed out that my application was still pending and I was ready for work and so it went to Peru at the end of May, again in my profession for further training in the sewing room. There the women could clock up some success and also there it was not only the tailor workshop, but also English lessons and many conversations.

Now I have been back home in Spain for a few weeks and am thankful that I had these great times, but of course I am happy to be here in beautiful Spain again.

If I will be able to "escape" again?, I don't know yet, age also plays a role here, although I am young and top fit!

Let's see if the next opportunity will arise!
My wish would be to have a final adventure in Ireland, Scotland or England, maybe now as a "temporary Granny".
Finally, a big "thank you" to Mrs. Hansen and the team and a lot of success in the further work!
Best wishes from Spain
Marlies