"I've been really fortunate."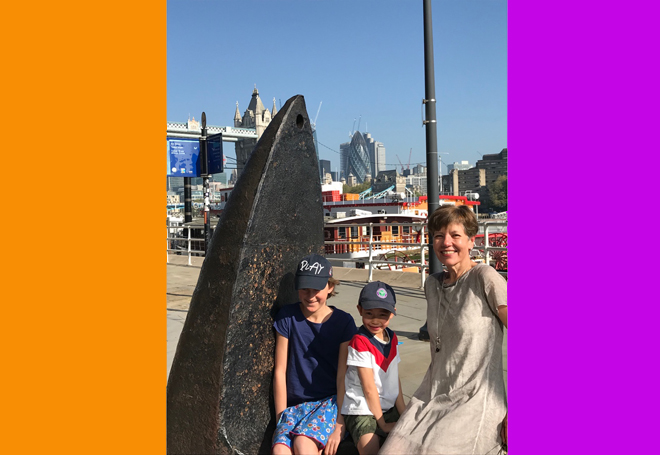 While I was still working, I read a report in our regional newspaper about the possibility of going abroad as a Granny Aupair. When the time came, I didn't hesitate for long: The team from Granny Aupair also helped me a lot. I visited a preparation workshop in Hamburg, where a lot of important information and experiences were exchanged and my questions were answered.
Since January I am now in a family with two children in Wimbledon, London. I have extended the initially planned three months until August. My main tasks are to accompany the children to and from school, and taking care of the children. On three days a week I pick up the children from school, then there is a leisure programme and I cook dinner. When the parents go out, I take over the babysitting service in the evening. Usually only once a week I also do the school run in the morning. On Mondays and Fridays I do light housework like folding clothes, vacuuming and keeping the kitchen clean. The remaining hours of the days are free, as well as the weekend.

Although I only have basic knowledge of the English language, I got along very well with the family from the beginning and they integrated me well. Everyone tries to make my stay as nice as possible and to show me a lot of the country and its people. I take part in family trips to the surrounding area and have already spent two nice weekends with the family in Devon with their grandparents. The family is very hospitable and my husband and daughters were able to visit me several times and also live here.
Besides the activities with the family I always had enough time to look at London . You can reach the City of London with the Tube in 25 minutes and I enjoy these trips to this beautiful, varied and interesting city very much. I also joined the Oldiechor of the St. Mary´s church in Wimbledon, which welcomed me very nicely as a guest.

All in all, I can only draw a very positive conclusion; I've been really fortunate. It was always my wish to get to know England, its people and the language better. It is a very valuable and beautiful experience in my life, from which I will certainly benefit for a long time to come.